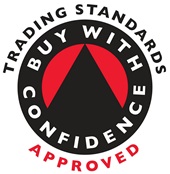 Bawden Tree Care are long term members and approved contractors of Hampshire County Council's Buy With Confidence Scheme. Pictured above is Richard Bawden, Managing Director, receiving the company's certificate of accreditation at a short ceremony held in Winchester.
As a company, Bawden Tree Care has always sought to give high quality tree surgery service to all customers, regardless of the size of the job. It is often difficult for prospective customers to know whether or not the tree surgeon they are considering is reliable, experienced, well trained and professional. The Buy With Confidence accreditation, along with the Arboricultural Association's Approved Contractor scheme, offer potential customers the reassurance that they are choosing the right contractor. This also means that in the unlikely event of dissatisfaction with the service, they can revert to the respective organisations for assistance in resolving matters.
The History Behind the Buy With Confidence Scheme
'Rogue traders' became a significant issue and, as the concern increased, Local Authority Trading Standards Services, including Hampshire County Council, took the decision to create the Buy With Confidence Scheme. Consumers are provided with a list of local businesses who have met the strict scheme criteria; each have gone through in-depth checks before being approved.
In order to become a Buy With Confidence member, a business must either be recommended or apply to join and then pass a number of background checks, have their complaints history is reviewed and have Trading Standards visit the business. Previous customers give positive references, before the business agree to the scheme's code of conduct. Bawden Tree Care underwent this rigorous process, before being offered scheme membership