Tree Stump Removal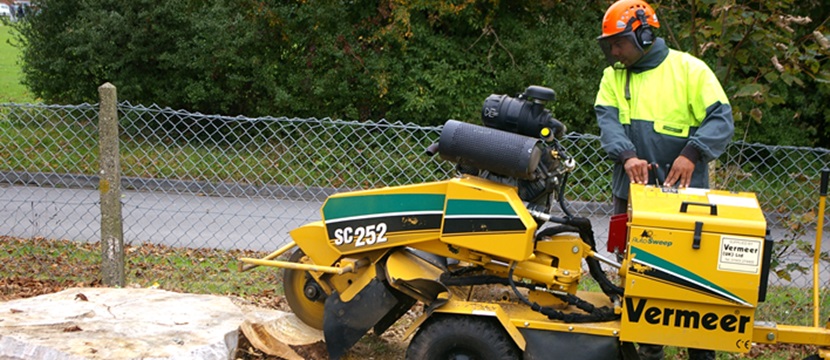 Once trees have been removed consideration needs to be given to what will happen next and to the tree stump removal. Tree stumps can present themselves as unsightly trip hazzards that serve no useful purpose, it is generally accepted that unless there is a specific reason for retaining the stump it should be removed or destroyed.
Stump Grinding
Tree stump removal can be achieved using stump grinding equipment like that pictured here. In some instances tree stumps and roots can be removed using other mechanical plant such as a JCB or 360 tracked diggers. Grinding away or removing the stump and surface roots removes potential trip hazzards and generally improves the aesthetics of the landscape. One benefit of grinding the stump down, even the largest of tree stumps can be reduced to a pile of sawdust and grindings, when stumps and roots are removed using a digger or other similar mechanical device the stump and roots remain intact and can present as a difficult item of green waste to deal with.
Another advantage of using a stump grinder is that there is minimal disturbance to the surrounding ground and once all debris has been removed, the resulting void can be filled with clean top soil, levelled and the ground used for another purpose.
Eco Plugs
Where it is decided not to undertake tree stump removal then the stump can be treated with an 'Eco Plug' instead. This is a small plastic plug that contains herbicide, a hole is drilled into the tree stump and the 'Eco Plug' inserted, depending upon the size of the stump and tree species more than one 'Eco Plug' may be required. 'Eco Plugs' are highly effective and pose no risk to other trees, shrubs vegetation or animals.
Tree Stump Removal
Often old stumps can lie in the way of fences or perhaps a new extension, also it is particularly importa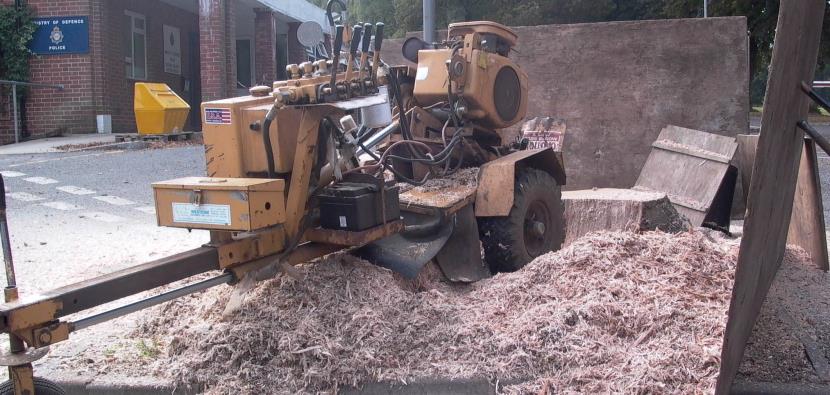 nt to remove stumps where a diseased tree has been felled, to ensure all traces of the disease or fungus are removed and cannot infect newly planted or neighbouring trees.
When tree stump removal is completed it is essential that underground services and surrounding structures are located and protected. Bawden Tree Care use staff qualified and expereince in cable avoidance techniques (CAT), the company uses it's own CAT and Genny for these checkes, all of which are regularly tested and calibrated.
Bawden Tree Care have a range of tree stump grinders that enable the largest and the smallest stumps to be removed. Access to confined spaces and rear gardens does not need to be an issue, Bawden Tree Care's smallest stump grinder will fit through a standard garden gate.
When to complete Stump Grinding
It is common for tree stump removal to be undertaken at the time a tree is felled, however this is not always the case, Bawden Tree Care are often asked to remove old tree stumps in isolation, large or small all types of enquires are welcome.
Bawden Tree Care have been stump grinding across Berkshire, Dorset, Hampshire and Wiltshire for over 30 years. To book an appointment or arrange a no obligation free quotation call 01980 623015 or email the Bawden Tree Care Stump Grinding Team.