Bawden Tree Care - Tree Surgeons In Wiltshire
Are you looking for tree surgeons in Wiltshire then look no further than Wiltshire based tree surgeons Bawden Tree Care. Bawden Tree Care provide a full range of tree surgery services, including arboricultural consultancy across the County of Wiltshire, from Malmesbury to Swindon and Salisbury to Tisbury and all the towns, villages and hamlets in between.
With a main office in Amesbury near Salisbury, Bawden Tree Care have been working throughout Wiltshire for in excess of 30 years and during that time have built up a comprehensive knowledge of the trees in the County, common species, their preferences and the pests and diseases which may affect them. It is also worth noting that Bawden Tree Care is one of a very small number of Wiltshire tree surgeons which have attained 'Approved Contractor' status with the Arboricultural Association.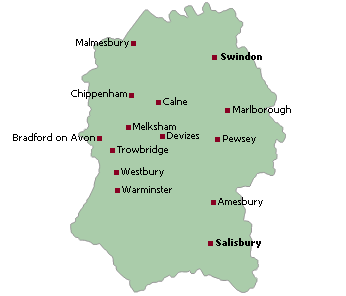 Customers supplied throughout Wiltshire range from many private domestic households to Wiltshire County Council, Amesbury Town Council, Wiltshire NHS, the Ministry of Defence, the Environment Agency, Natural England and numerous Parish Councils. Bawden Tree Care have supplied these customers with a wide range of tree surgery services over the years, as well as in numerous cases, arboricultural surveys and BS5837 : 2005 Reports.
Many trees in Wiltshire are protected by Tree Preservation Orders or by virtue of the fact they are located within Conservation Areas. Bawden Tree Care can offer valuable professional advice and guidance on the legislation and how it protects the trees. If trees are protected then it will be necessary to submit an application to Wiltshire County Council planning department in Trowbridge for permission to proceed with the works, sometimes a discussion with the local Tree Officer in advance is also recommended. As part of the service offered by Bawden Tree Care this liaison and administration is provided at no additional cost to the customer.
Common species of trees found across Wiltshire include Beech (Fagus sylvatica), Ash (Fraxinus excelsior), Silver Birch (Betula pendula) and Horsechestnut (Aesculus hippocastanum).
So if you need a Tree Surgeon in Wiltshire, why choose us?
The staff at Bawden Tree Care bring enthusiasm and commitment to every job, large or small, commercial or domestic. A reliable, dependable team of tree surgeons, highly qualified and with a wealth of practical experience.
Some other important points to consider are:
Free no obligation quotations.
Public Liability insurance cover of £10m.
Trustmark endorsed tree surgeons.
Tree surgery completed to British Standard 3998:2010.
Environmentally friendly tree surgeons - accredited to ISO 14001
So whether your tree surgery requirements are large or small, domestic or commercial the team at Bawden Tree Care can help and offer advice.
Where have Bawden Tree Care completed tree surgery in Wiltshire recently?
Aldbourne, Amesbury, Bradford On Avon, Bulford, Calne, Chippenham, Corsham, Cricklade, Devizes, Durrington, Lyneham, Malmesbury, Market Lavington, Marlborough, Mere, Netheravon, Pewsey, Salisbury, Shrewton, Shrivenham, Swindon, Tisbury, Trowbridge, Upavon, Warminster, Westbury, Wilton, Woodford, Worton, and Wroughton.
Bawden Tree Care strive to offer the best tree surgery solutions, at honest and realistic prices. Please take some time to browse the web site and find out more about the range of services offered. The testimonial pages might be useful providing details of feedback received from satisfied customers.
To book your no obligation free quotation call now 01980 623015 or email info@bawdentreecare.co.uk.