At Bawden Tree Care we are always encouraging our staff to develop their skills and grow their experience through work place training and also more formal courses with colleges such as Sparsholt, near Winchester. Howard Ingram is an established member of the team at Bawden Tree Care who is working hard to develop his career, attending college on a regular basis and soaking up knowledge in the workplace from his manager, Adam Doel, and other experienced members of staff.
Throughout the last 12 months Howard has worked extremely hard, Adam has received glowing feedback from customers on Howard's performance, he is extremely reliable and has an insatiable thirst for knowledge. Adam commented that: "Howard is a valuable and well respected member of our team, with enormous drive and determination to do a good job - he regularly goes above and beyond what is asked of him. We truly appreciate the hard work he puts in."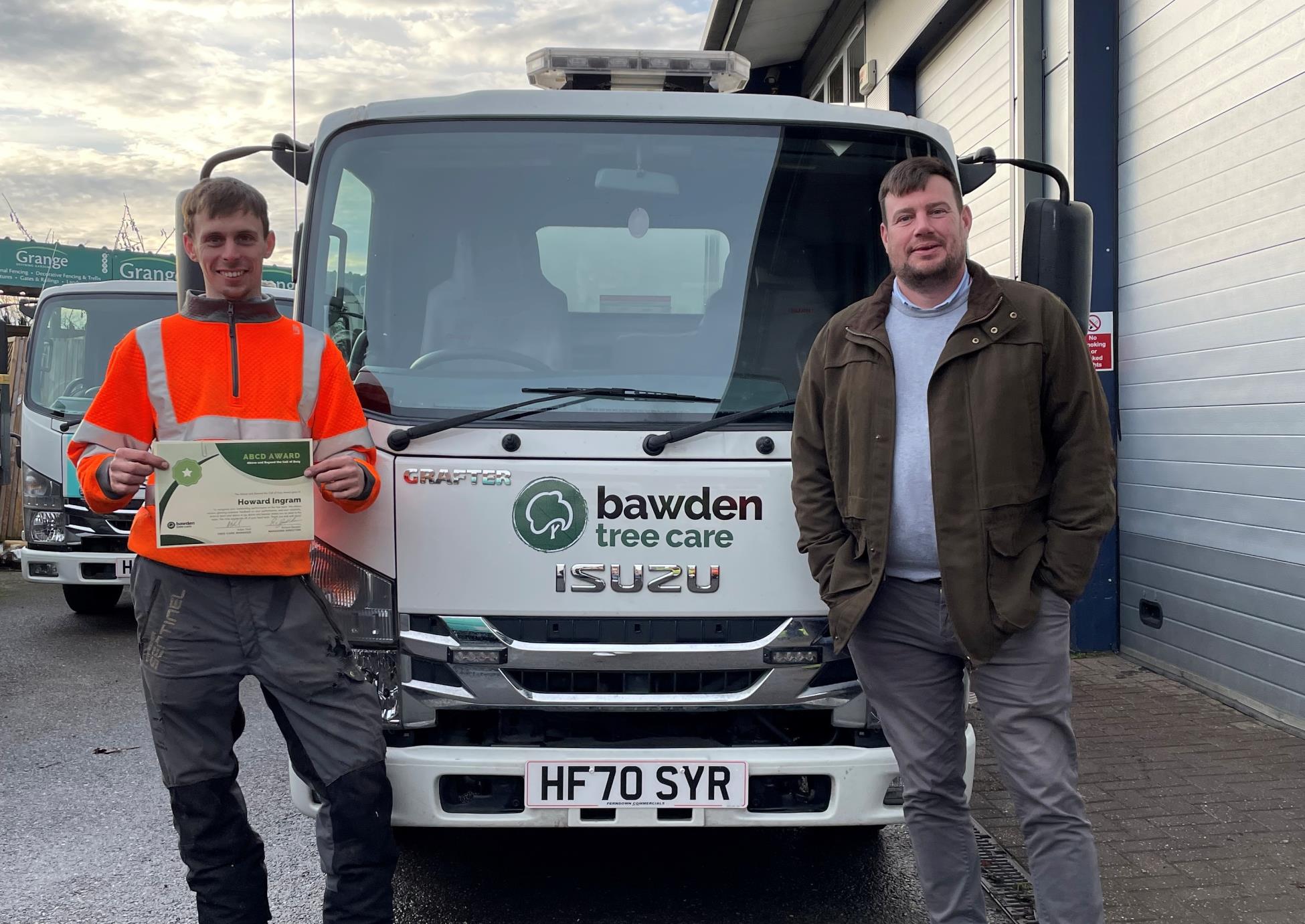 In recognition of this outstanding performance over the last 12 months Adam had no hesitation in selecting Howard to receive one of the Company's " Above and Beyond the Call of Duty Awards ". In the picture above Howard is seen receiving his ' ABCD ' Award together with a voucher from Adam Doel - very well done Howard from the whole team at Bawden, well deserved.
Tree surgery is a demanding, skilled and physical career to choose - often working at height, good practice, training and high standards of safety are paramount. Add to these demands, the need to provide a great level of customer service, have an detailed knowledge of trees and the habitat they provide it is clear to see there is a need to follow a comprehensive and professionally delivered and accredited training path - as Howard has chosen to do by training via the Apprenticeship Scheme. Whilst it requires commitment and dedication to succeed it also provides and route to a rewarding career as a tree surgeon - at Bawden Tree Care we are always happy to discuss opportunities and training opportunities so please do call.