Crown Lifting (Raising) Low Branches
Crown lifting in the most simplistic form is the removal of soft growth and lower branches to increase vertical clearance beneath the canopy. It can be seen as a simple and straightforward process that does not require a professional tree surgeon. In some cases this may be true but in others not and for this reason Bawden Tree Care would also recommend an experienced and qualified tree surgeon complete the work. Below is a definition provided by the Arboricultural Association that gives more detail on this particular aspect of tree pruning and the risks if it is not performed correctly.
Definition of Crown Lifting provided by the Arboricultural Association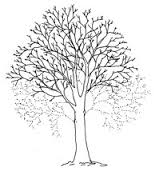 Crown lifting is the removal of the lowest branches and/or preparing of lower branches for future removal. Good practice dictates crown lifting should not normally include the removal of large branches growing directly from the trunk as this can cause large wounds which can become extensively decayed leading to further long term problems or more short term biomechanical instability. Crown lifting on older, mature trees should be avoided or restricted to secondary branches or shortening of primary branches rather than the whole removal wherever possible. Crown lifting is an effective method of increasing light transmission to areas closer to the tree or to enable access under the crown but should be restricted to less than 15% of the live crown height and leave the crown at least two thirds of the total height of the tree. Crown lifting should be specified with reference to a fixed point, e.g. 'crown lift to give 5.5m clearance above ground level'.
For more information and guidance on professional crown lifting and other arboricultural pruning techniques then contact Bawden Tree Care, see detailed below.
Tree Surgeons, Bawden Tree Care strive to offer the best tree surgery solutions, at honest and realistic prices. Please take some time to browse the web site and find out more about the range of services offered. The testimonial pages might be useful as they provide details of feedback received from satisfied customers.
To book your no obligation free quotation call now 01980 623015 or email info@bawdentreecare.co.uk.