Apprentice Tree Surgeon - Salisbury Wiltshire
Career in Tree Surgery - Apprentice Tree Surgeon
The Apprentice Tree Surgeon job vacancy is based at Amesbury near Salisbury, Wiltshire.
This exciting opportunity provides individuals looking to start out on a career in trees and timber a route to attaining the necessary skills and knowledge required to develop a successful career within the industry.
The position requires the successful candidate to undertake structured training on a regular basis (day release) at Sparsholt College, this training will be supplemented by additional modular units in key skills areas such as the safe use of chainsaws and other mechanical equipment as well as work place mentoring by experienced Bawden Tree Care staff.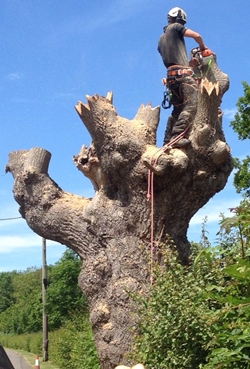 The ideal candidate will enjoy working outdoors, have an interest in nature, ecology and the environment, particularly in relation to trees. There is also a requirement to adhere to rigid health and safety systems and practices in doing acknowledging that working in and around trees is not without its risks but good training and discipline help to reduce these significantly.
Bawden Tree Care, is part of the Bawden Group a privately owned company, delivering tree care and arboricultural services to a wide range of customers. Typically these include a large number of private domestic clients, the Ministry of Defence, Parish, Town and Borough Councils, country estates and commercial business parks. Our customers provide a varied source of interesting and exciting tree work on regular basis. As well as providing traditional tree surgery the business is also focused on delivering related environmental and ecological services to customers, any interest or experience in this sphere of the industry is therefore a distinct advantage.
Bawden Tree Care is a professional tree surgery business maintaining Arbroicultural Association 'Approved Contractor' accreditation. The business is also OHSAS 18001, ISO 9001, and ISO 14001 accredited.
Interested candidates are more than welcome to telephone and have an informal discussion regarding this opportunity, and Bawden Tree Care generally, please speak with Bawden Tree Care Manager - Adam Doel.
Alternatively submit a detailed CV together with a resume of your specific career aspirations to us by email to myjobapplication.co.uk or by post to:
Bawden Tree Care, Unit 1 Mills Way Centre, Mills Way, Amesbury, Salisbury, Wiltshire, SP4 7AU.